The Lion Guard Which Cub are you from Kion and Ronis Litter?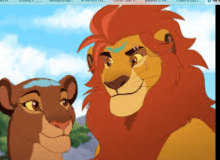 Hey guys! Want to find out who you are? Well take this quiz and find out! You even get a Swahili lesson! Go to the end and learn some Swahili! Answers are long-ish.
Pictures are not mine! I hope you appreciate this, because I spent a lot of time and effort! Anyway have fun! Please comment, or rate, or even like. Is that the same as rate?
Created by: Liberty Christianity