How metal are you?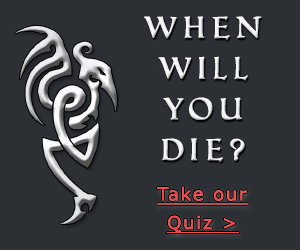 Metal is more than a music genre. Metal is a lifestyle. There is a whole metal culture, and this quiz will see where you stand in it. I encourage you to be honest with your answers because lying to impress yourself is not only NOT metal, it's pathetic.
So... how metak are you? Are you taking this quiz to prove that YOU are metal enough for Behemoth or Cannibal Corpse? Or are you trying to banish all accusations of being metal? When I say "Dime", do you think 'money'? "drugs"? or "rest in peace' and shed a tear? This test will prove how much a metalhead you are.
Related Quizzes:
Create a quiz on GotoQuiz. We are a better kind of quiz site, with no pop-up ads, no registration requirements, just high-quality quizzes. Hey MySpace users! You can create a quiz for MySpace, it's simple fun and free.