How good is your WW2 knowledge?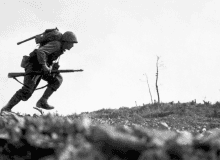 This is my second quiz and since I'm into WW2. I decided to do it on said subject. This quiz is reasonably hard but most people will find it quite easy, depending on what they know. I've tried to fit in questions that cover the whole of the war but of course I couldn't do everything.
I hope you enjoy it and please comment about what you liked or what I could do better. I'm also thinking of something to do for my next quiz, so if you have any ideas please say...
Created by: ShyTimeTraveller