Can you stand this quiz?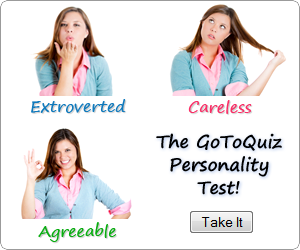 I was inspired to make this quiz because my best friend, Bob the Sock had so much fun using this site, i felt that i must contribute to it! By making this quiz i have revealed my true inner child, he's green with purple polkadots. And he likes shortbread!
Are you a random? Do you have the randomness to qualify for that unprestigious title? Untill now you could only wonder. But thanks to my marvelous quiz you now know... that the answer will be no! Thankyou again. And goodbye. Thankyou. Thankyou. Thankyou.
Related Quizzes:
Create a quiz on GotoQuiz. We are a better kind of quiz site, with no pop-up ads, no registration requirements, just high-quality quizzes. Hey MySpace users! You can create a quiz for MySpace, it's simple fun and free.