Can you beat me up in a fight? ( boys only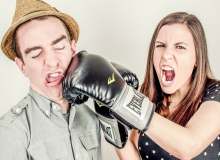 Many people say they know how to fight just to be cool. Those fakers. I am strong, tall, and tough. I know MMA and wrestling. Do you think you can beat me up? Come to take this quiz and figure it out!!!
Do you want to know if you can beat me up? If you do, you should take this quiz. However, if you do not like the results, please do not be mad. It is just an online quiz.