How Eco-Friendly Are You?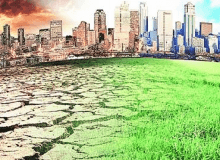 Although awareness of the climate emergency has increased in recent times, there is still a lot that needs to be done to minimise the effects of man-made global warming. This quiz will tell you how eco-friendly you are provided that you answer every question honestly.
The average person would score approximately 30% on this quiz. We have less than 10 years to stop destroying our planet, leaving us no time to waste. Climate change denial and government inaction will hinder our efforts, but your interest in measuring how eco-friendly you are already sets you on the path towards 1.5 degrees Celsius average temperature increase.