Whats your wolf name

Your wolf name given.Will you get a name that fits a personality of a dark hearted wolf or a noble leader with an atitude,OR a heart of gold wolf.Now see through the eyes of a wolf and get on doing the quiz
Who will you get on this great quiz of mine also Rember to comment plz and if you have a youtube account plz put that in as well if you kno me(Sandpelt656),
Created by: sand
Advertisement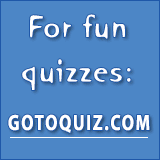 Remember to rate this quiz on the next page!
Rating helps us to know which quizzes are good and which are bad
Related Quizzes:
Create a quiz on GotoQuiz. We are a better kind of quiz site, with no pop-up ads, no registration requirements, just high-quality quizzes. Hey MySpace users! You can create a quiz for MySpace, it's simple fun and free.