You might think you know me ...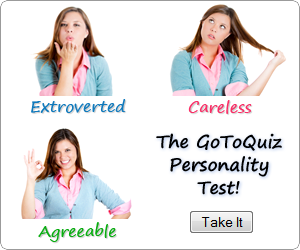 I was just thinking how interesting it would be to see how much you actually know me compared to how much you think you do. Haha. I need a life I know, but I'm currently procrastinating from embarking on that.
So do you really know me? Do you know the ins and outs of the dark labyrinth of 'insanity' or are you simply a casual bystander wondering whether or not I should be locked up? Haha, or do you not even realise these wild eccentricities exsist? Am I simply a fantasist, and actually quite sane? Does it even matter? All these answers, and more, if you go to the dance with me. Haha.
Related Quizzes:
Create a quiz on GotoQuiz. We are a better kind of quiz site, with no pop-up ads, no registration requirements, just high-quality quizzes. Hey MySpace users! You can create a quiz for MySpace, it's simple fun and free.