Which Percy Jackson second generation child are you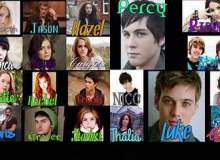 This is a Percy Jackson next generation quiz. All these characters are of my own making. There are 10 results and names you could get. So try this quiz and find out who you are.
I hope you love this quiz and get who you want to get. I used as little animation as possible but I hope we're still satisfactory. Have fun and please comment on how I did.
Created by: GinnyWeasley12