Which LManberg/Pogtopian character are you?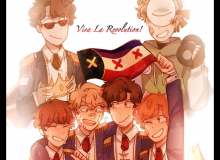 This quiz is not correct at all. I was bored and just finished playing another quiz when I saw this one. I mostly made it to troll my brother but I wanted to make it available to everyone,
If I put the wrong description or the results are incorrect please read the paragraph above and that will explain it for you. If you enjoyed it please rate it.
Created by: Emichan