Do you really know me?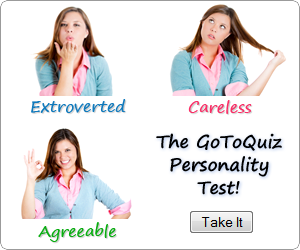 I am a caring, compassionate, and sensitive young woman. I currently work in a nursing home, and it is one of the hardest yet fulfilling jobs I have ever had! I love spending time with my girlfriend...She is also my BEST friend. I am a major nerd! I am totally lame and a sucker for romantic comedies! I am very trusting and naive at times, but don't let it fool you because I am also extremely intelligent! I love just being myself and having fun!! Life is too short to not have a hearty belly laugh at least once a day! Any other questions you may have for me, bring 'em on! =)<BR>
Back me down from backing up Hold your breath now it's stacking up Etched with marks, but I can deal And you're the problem and you can't feel Try this on, straightjacket feeling so maybe I won't be alone Take back now, my life you're stealing
Related Quizzes:
Create a quiz on GotoQuiz. We are a better kind of quiz site, with no pop-up ads, no registration requirements, just high-quality quizzes. Hey MySpace users! You can create a quiz for MySpace, it's simple fun and free.