Which Of These Bands Should You Listen To Right Now?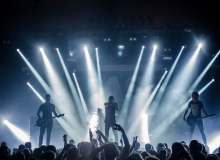 Hi once more, quiz taker! This is my 5th quiz today as I am on a large quiz-making spree and this is the one that I decided to make next! I hope you enjoy it
So in this quiz you will answer 11 questions that will determine which band you should listen to. The possible results are my top favorite bands: Fall Out Boy, Panic! At The Disco, Imagine Dragons, OneRepublic, and Twenty One Pilots.
Created by: Cinnamon_Roll