What Female Pokmon Will You Tickle and in What Way?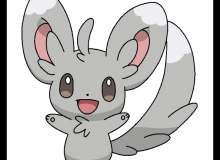 In this quiz you will play a male Minccino Pokémon. This guy likes to tickle his friends until they pee (ok, maybe not that far but you know what mean). Today you will find out who you will tickle and how would you tickle them. All you have to know is your not playing as yourself.
The Pokémon you can tickle is one (or maybe two) out of four. Snivy, Emolga, Purrloin and Eevee. All female. (Kinda a lady's man if you ask me ;)) They also kinda like if not love to be tickled. So don't expect a flat out "no".
Created by: SomeoneUdontNo