The Tickle Dungeon Time For The Feet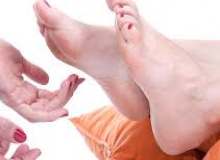 In this room your feet will be exposed to many things that are not good tickling wise because your characters feet are the most ticklish part of the body with her/him sooooo be prepared to be toured in the worst way possible tickling with only the feet.
This room will put your feet to the ultimate tickle test which will not be good because in this you are super ticklish but your feet are the most ticklish have fun in the tickle dungeon!!!! P.S:The next room should be fun for you because it has to do with your characters second most ticklish part the sides!!!!!!
Created by: BlitzShadowCake